This is a simply ridiculous finish from Ken Maumalo who now has a first-half double and he's now up to sixth on the NRL try-scorers list.
It's the fourth try of the first half for Michael Maguire's men and this one comes in the final minute of the first half after a scrum.
Hastings swings around to the left, hands it off to To'a and it once again ends up in Maumalo's hands in the left corner and he somehow manages to get the ball down with his left hand while being tackled and ends up sliding into the advertising boards.
"Stop the fight. They're too good, the modern day winger," Andrew Voss says on commentary for Fox League.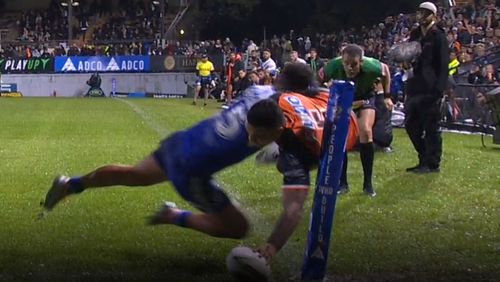 "They're not rugby league players, they're acrobats, they're magicians. That's incredible stuff."
Cronk notes that that's now the fourth try that's come down the left hand side of the field. They've been merciless attacking that right side of the Bulldogs' defence.
"The left hand side of the Tigers' attack have done their research," he says.
"They are targeting that right edge of the Bulldogs and they are in sync. We've got the orchestrator in Jackson Hastings organising the set, but Garner is centimetre-perfect on his line running, Madden and Starford To'a are coming up with nice little plays in the back and they've scored four tries."
Unfortunately it's another missed try conversion kick, this time from Hastings. It's 18-0 to the Tigers at the main break.